Backup4all adds 2 new languages: Klingon and Elvish
We've got an exciting new announcement for you: as of today, Backup4all has added two new languages to its list of supported languages: Klingon and Elvish (Tengwar Quenya to be more precise)!
Yes, you read that right. The popular backup software is now translated and supports two of the most popular fictional languages in the world. Adding Klingon was a no-brainer, as Backup4all is already used in space on the International Space Station – in the event of a Klingon encounter on the ISS, at least they'll see a familiar interface. BTW, here's how it looks in Klingon:
Elvish is more of a tribute to the fantasy genius of J.R.R Tolkien than a practical addition. Here's how it looks in Elvish (Quenya):
What's new in this update:
Interface is now available in Klingon, the language spoken by the Klingon species in the Star Trek universe.
Interface is now available in Elvish (Tengwar Quenya), the language spoken by Elves in the Middle-Earth universe (where the action in Lord of The Rings happens).
Users can now backup their files in Klingon and Elvish, making it easier than ever to protect their data in the languages of some of the most iconic science fiction and fantasy universes.
Aside the visual eye-candy advantages of having the interface in Klingon or Elvish, why would anyone need to backup their files in Klingon or Elvish?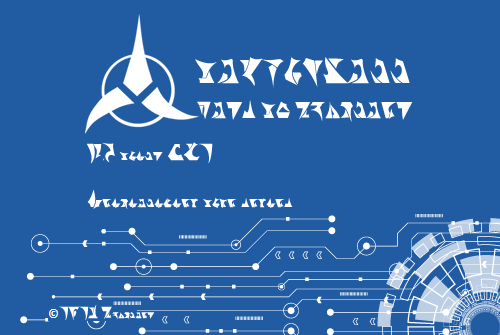 Well, for starters, it's a fun way to pay tribute to some of the most beloved fictional worlds out there. Plus, who knows? Maybe someday we'll encounter a real Klingon or Elvish civilization, and you'll be ahead of the game with your backup files already in their language.
Of course, there are some limitations to this new feature. For one, users will need to have a basic understanding of the languages to use Backup4all's options. Additionally, some characters in these languages may not be compatible with certain file systems or backup destinations, so it's important to double-check before using them.
But all in all, we think this is a really exciting update that will appeal to fans of science fiction and fantasy everywhere. So what are you waiting for? Give Backup4all a try in Klingon or Elvish today: Download Backup4all
May the force be with you! Wait, wrong universe, or a hint for a future update? Let us know if you have your own suggestions for what future languages to add in Backup4all, right now these are considered next:
Na'vi language – suggested by Avatar fans
Dothraki language – suggested by Game of Thrones fans
Romulan language – the go-to villains in Star Trek, just in case of an invasion
Aramaic language – Jesus' language, preparedness for the second coming?
Latin language – if English gets de-throned