Backup4all 9.8 released, with new backup plugins
Backup4all v9.8 is now available. This update adds 2 new backup plugins and multiple improvements for removable media and cloud backups. You can download the new version here: Download Backup4all.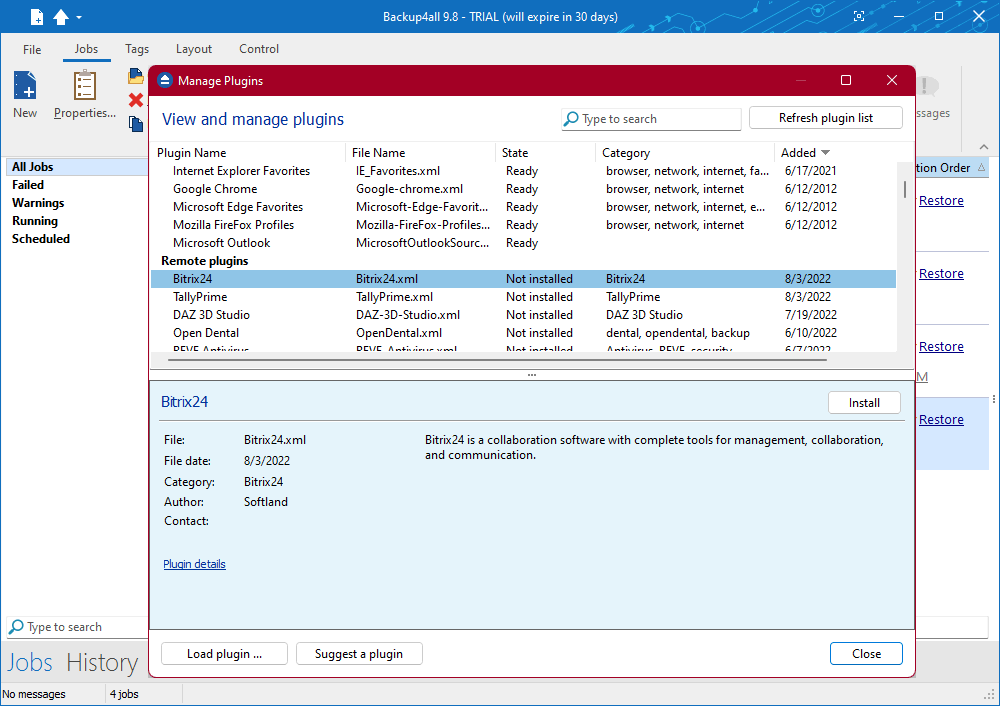 What's new in Backup4all 9.8
Added: Backup plugin for Bitrix24, a collaboration software with a full suite of tools for easy management. The plugin will allow easier backup of its settings.
Added: Backup plugin for TallyPrime, a complete business management software for small and medium businesses. The plugin will allow easier backup of its settings.
Added: Extra debug info log for OneDrive. This will allow better debugging of errors when backing up to Microsoft OneDrive.
Fixed: Text spacing issues when 180% text size was used. For those using extra large font sizes on Windows, there were some interface corrections to fix minor issues.
Fixed: "Cannot delete folder" warning for some backup jobs with plugins. In some situations, mirror backup jobs using backup plugins returned a particular warning message when trying to delete empty folders.
Fixed: Remove from backup catalog deleted files on Blu-ray using mirror
Fixed: Skip files having paths longer than 127 chars on CD/DVD/Blu-ray
Fixed: Custom date filter was not working correctly in some rare situations
This version update is free for all users that have an existing valid license of Backup4all 9.x.
However, this version is not free for users of previous versions of Backup4all (1.x – 8.x). If you own a previous version and want to test Backup4all 9.8, you can install a 30 day free trial here: Download Backup4all 9.8.
Notice to previous versions users (Backup4all 8.x or older): Backup4all 9.8 will be installed separately and allows you to import the backup jobs from the previous version (once imported, they cannot be used in the previous version). To upgrade visit this page: Upgrade Backup4all
Of course, as always we encourage feedback so if you want to share with us your opinion regarding this new release feel free to add your comment.