Backup4all 9.4 released, with new backup plugins
Backup4all v9.4 is now available. This version adds new backup plugins, includes updates for backup sources and several other fixes. You can download the new version here: Download Backup4all.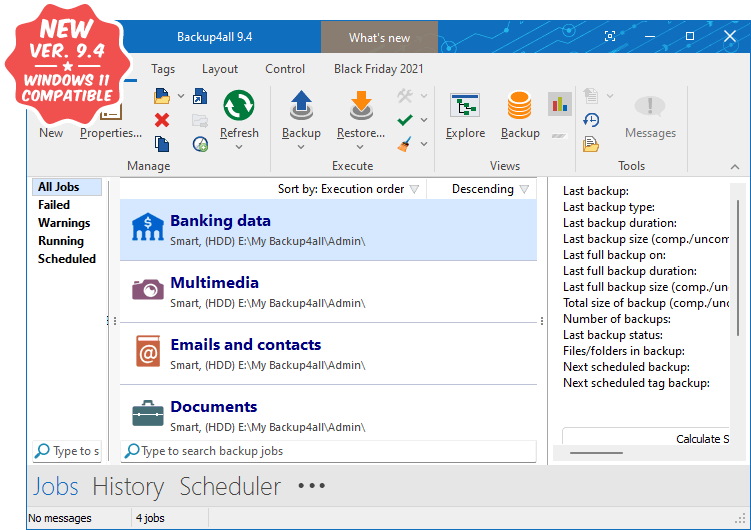 What's new in Backup4all 9.4
Added: Backup plugin for Epic Browser
Added: Backup plugin for ACDSee
Fixed: Each source expand required authentication for some Box backups
Fixed: Mirror with zip on Google Drive created duplicate files in certain situations
Fixed: FTP sources were not expanded every time
Fixed: Restore mirror with zip showed an incorrect file date
Fixed: Close VSS helper app when no jobs are running
Fixed: Different file size for some mirror backups
Fixed: Data error warning
Fixed: Some occasional volume shadow copy issues
Fixed: USN journal
This version update is free for all users that have an existing valid license of Backup4all 9.x.
However, this version is not free for users of previous versions of Backup4all (1.x – 8.x). If you own a previous version and want to test Backup4all 9.4, you can install a 30 day free trial here: Download Backup4all 9.4.
Furthermore, only Backup4all 9.x has been tested and is fully compatible with Windows 11. We cannot guarantee that older versions (i.e. 8.x or older) are still compatible with Windows 11, and those aren't actively developed anymore. We highly recommend upgrading to the latest version to be sure your backups will continue to run even after you migrate to Windows 11.
Notice to previous versions users (Backup4all 8.x or older): Backup4all 9.4 will be installed separately and allows you to import the backup jobs from the previous version (once imported, they cannot be used in the previous version). To upgrade visit this page: Upgrade Backup4all
Of course, as always we encourage feedback so if you want to share with us your opinion regarding this new release feel free to add your comment.