[EXPIRED] Cyber Monday Sale: 70% OFF Backup4all Pro & Backup4all Monitor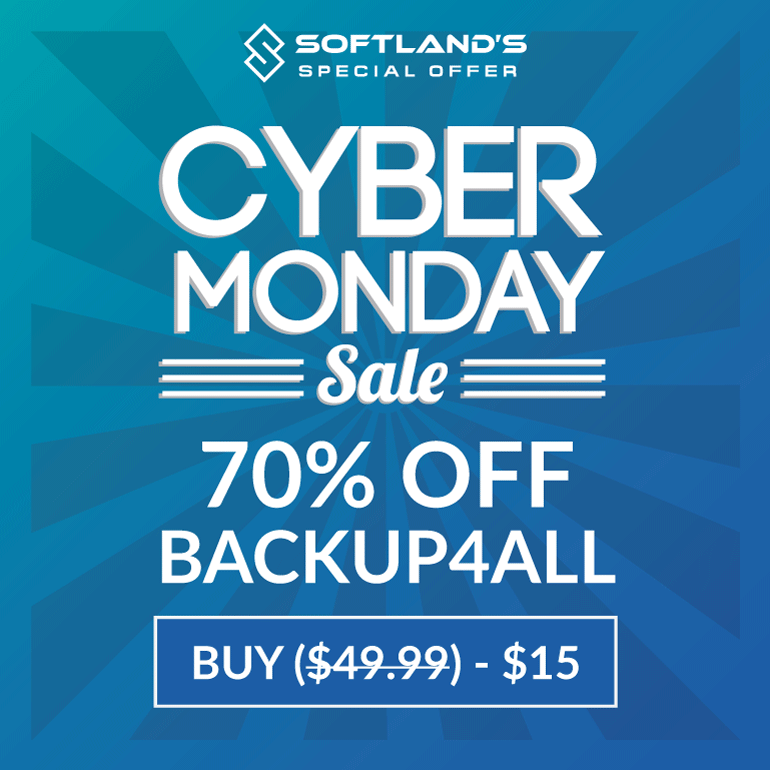 Special promotion with the occasion of Cyber Monday 2022! Until November 30th, you can buy Backup4all Professional and/or Backup4all Monitor with a 70% discount.
BACKUP4ALL PROFESSIONAL – 70% DISCOUNT
Instead of the full price of US$ 49.99 you pay only US$ 15* per license. Here's how you can buy Backup4all Professional with the 70% discount:
Click on the following link to buy a Backup4all Professional license: Backup4all Professional (70% off)
The discount will be applied automatically, all you have to do is enter your billing details and pay to finalize the order
* VAT/Sales Tax might be added
---
BACKUP4ALL MONITOR – 70% DISCOUNT
You pay US$ 1.49* per license instead of the full price of US$ 4.99 per license. Backup4all Monitor is an add-on product that helps you remotely monitor your Backup4all backups (it works only with Backup4all). Here's how you can order Backup4all Monitor with a 70% discount:
* VAT/Sales Tax might be added
---
Details regarding this special Cyber Monday promotion:
Promotion is valid until November 30th, 2022– orders after that date will have the full price so HURRY before you miss this deal
Be sure to share this deal with friends, they'll appreciate the tip if they're looking for an excellent backup software.
You can also use the coupon code WCYBERB2206 in the cart to get 70% off on any product on our website at https://www.backup4all.com/buy-now.html.
If you have any questions or suggestions use the comment section.
Why choose Backup4all?
If you've just heard about Backup4all, here's a few features that should help you decide to use it (if the steep discount hasn't!):
45+ cloud backup destinations. Back-up your data in the cloud to Google Drive, Microsoft OneDrive, Dropbox, Amazon S3, Microsoft Azure, BOX, Hidrive, Hubic, Google Cloud Storage and over 36 Amazon S3 Compatible cloud destinations (i.e. Cisco, Hitachi, Tiscali, Verizon).
100+ free backup plugins. You can load plugins for backing up or restoring specific programs' settings or other custom data (like game saves, email data, etc.). A plugin is actually an XML file that once imported in Backup4all adds a predefined backup.
Military-grade security. You can encrypt your backups using 128-bit, 192-bit and 256-bit AES encryption. You also have an option to lock Backup4all's interface so that it will require a password to allow modifying its settings.
True incrementals & smart backups. During an incremental backup, only files changed since the most recent backup are included. Its advantage is that it takes the least time to complete. Backup4all employs a unique system that decides automatically what backup type to use in order to save the most file versions (within the same allotted storage space) on your destination and improve the backup speed.
Email notifications. You can configure Backup4all to send custom emails after a backup finished, with success, error and warning notifications. Additional options allow you to attach the backup log file and send the email to several addresses.
Built-in scheduler. You can easily set up a powerful scheduler using predefined (or custom) scheduling configurations to make unattended backups. This way you set the backup and forget about it.
… and many more other features. You can see a full list here: Backup4all Features.