Backup4all 9 released with sources from cloud & remote locations
Backup4all v9 is now available. This is a new major version with important features and updates thus we highly recommend the upgrade. It includes the option to add backup sources from cloud locations (Google Drive, Microsoft OneDrive, Dropbox, Amazon S3, Azure, BOX, Hidrive, Hubic and Amazon S3 Compatible destinations), FTP/SFTP, as well as the possibility to have different types of sources in the same backup (for example plugin data, sources from the cloud, from local drives) plus other new features and updates.
You can download the new version here: Download Backup4all.
Here are some of the new features that were added in this new version:
Add backup sources from cloud destinations. Previous versions of Backup4all include the option to save your backup in the cloud with support for over 49 popular cloud destinations. Until now you could only use cloud storage as a backup destination. Starting with version 9 you can use files and folders from cloud location as backup sources. As an example, you'll be able to back-up files from Dropbox on a different cloud storage service (i.e. Google Drive). You can also add sources from FTP/SFTP servers. This is a great option especially for backup redundancy.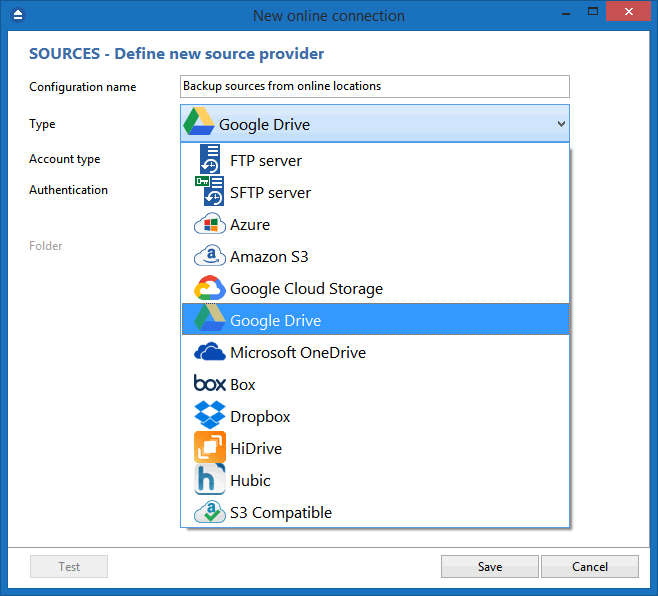 Predefined network connection sources. Backup4all 9 adds support for creating predefined network connections. You can define these as you would define other online connections, and then use them when adding backup sources. This is a great option for backing up multiple computers in the same network that have shared network paths.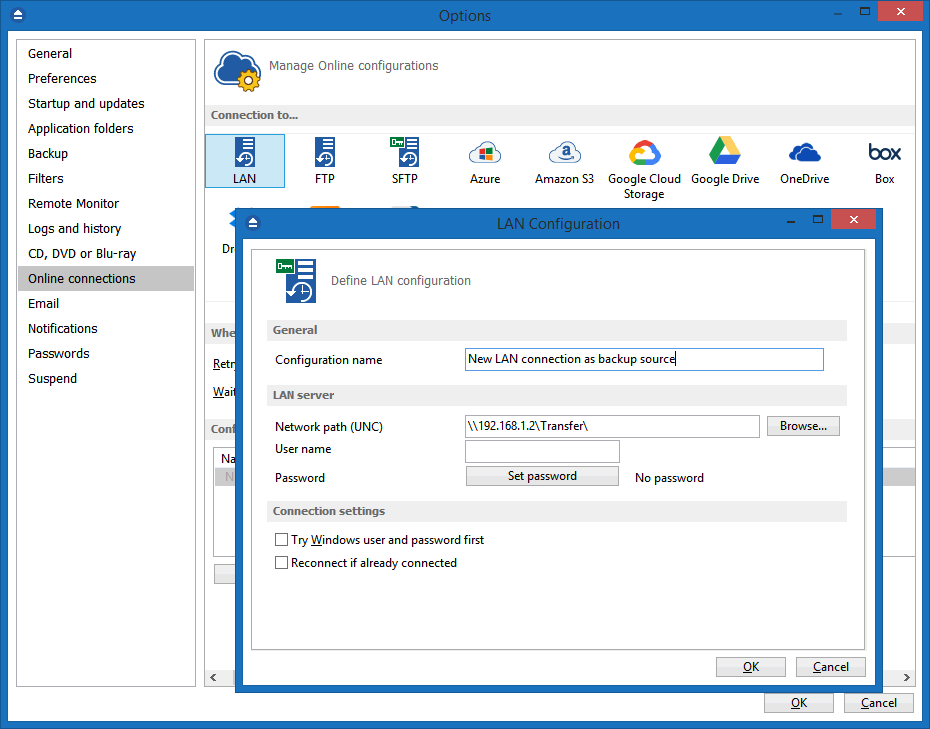 Different source types in one backup job. Backup4all now has support for adding different types of backup sources in the same backup job. For instance you'll be able to add in the same backup job sources from your local HDD, but also from cloud locations or sources from predefined plugins. Older versions of Backup4all had support for adding only one type of source in a backup job, but this changes starting with Backup4all 9.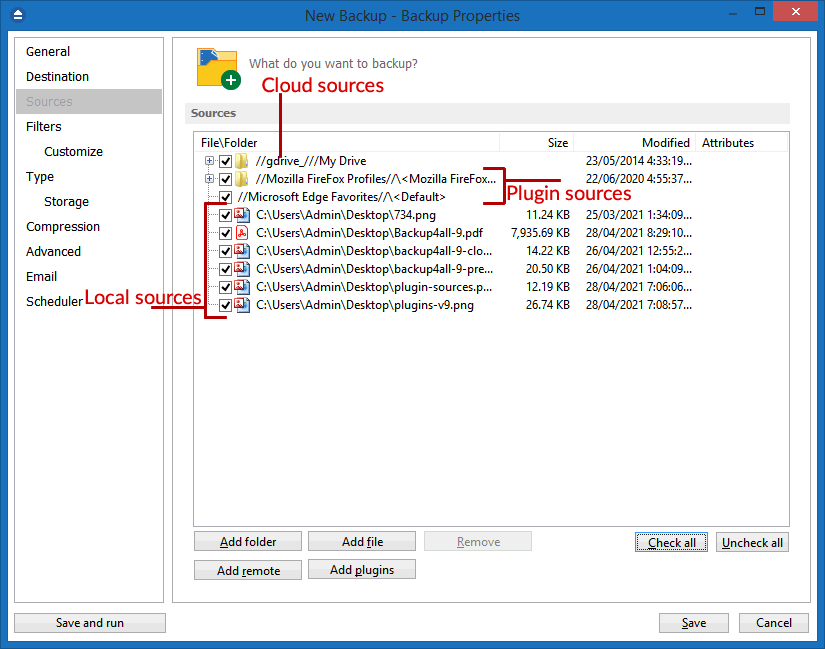 Full list of changes in Backup4all 9:
Added: Backup files from Google Cloud Storage
Added: Backup files from Microsoft OneDrive
Added: Backup files from Dropbox
Added: Backup files from Google Drive
Added: Define predefined network connection sources
Added: Multiple different source types in one backup job (plugin + cloud + local sources in one job)
Added: Backup files from Amazon S3
Added: Backup files from Azure
Added: Option to use HTTP in case HTTPS fails when checking for updates
Added: Backup files from BOX
Added: Backup files from Hidrive
Added: Backup files from Hubic
Added: Backup sources from Amazon S3 Compatible (37 destinations)
Added: Old catalogs are renamed and kept when importing jobs from previous versions
Updated: Track time needed for upload/download when using cloud as source/destination
We strongly recommend updating to this version and the good part is that you can give it a try before deciding to make the switch. Backup4all 9 will install separately from your older installation and you can test it for 30 days: Download Backup4all 9
When you're ready to make the switch, just import the backup jobs from the older version and purchase an upgrade. Prices for upgrades vary depending on what license you currently own, but you can quickly check the pricing by entering your key here: Upgrade Backup4all
Of course, as always we encourage feedback so if you want to share with us your opinion regarding this new release feel free to add your comment.