Backup4all 7 adds new cloud destinations
Backup4all 7 was now released and is available for download. This is a new major version with important features and updates thus we highly recommend the upgrade. You can download the new version here: Download Backup4all.
Here are some of the new features that were added in this new version:
Hubic is now available as a cloud backup destination (PRO only). Version 7 adds a new online backup destination, Hubic. This is a popular cloud storage provider that offers up to 25 GB of storage for free (plus the option to sync your data across different devices). Backup4all supports it as a destination, thus you can store your backups reliably on Hubic's servers.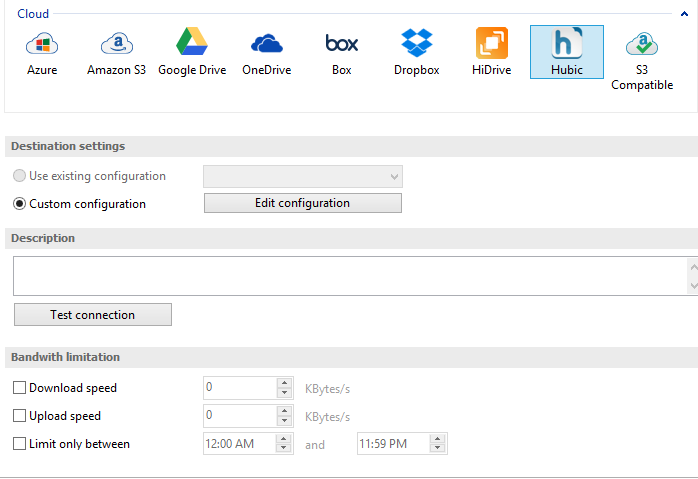 Hidrive was added as a new cloud backup destination (PRO only). Starting with version 7, Backup4all supports Hidrive as a new backup destination as well. HiDrive gives users 5 GB of storage for free and it was launched almost 7 years ago thus highly reliable.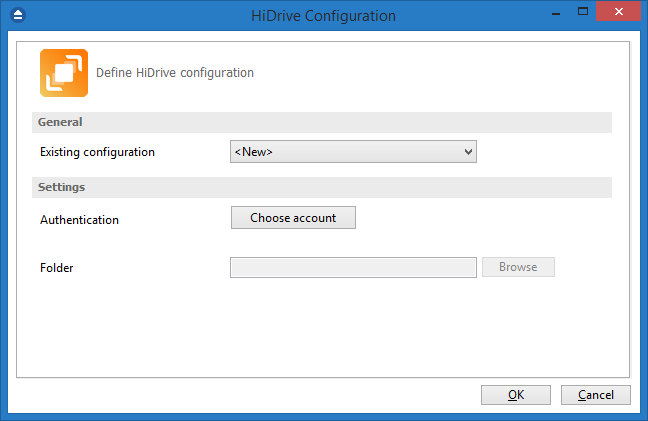 37 (and counting) Amazon S3 Compatible cloud destinations added (PRO only). There are multiple cloud storage providers that use Amazon S3's infrastructure to store their clients' data. Backup4all now supports more than 37 Amazon S3 Compatible cloud storage providers so if you have an account with them you can quickly configure it to store backups there. Here is the full list of providers added in Backup4all: Akaza, Aruba Cloud, Caringo, CenturyLink, Cisco, Claudian, Connectia, Constant, DDN, dinCloud, Dream Objects, Dunkel, T Cloud, Exoscale, Google Cloud Storage, Green Qloud, HGST, Hitachi, HostEurope, IDC Frontier, LeoNovus, Mandic, Minio, NetApp, NiftyClouds, Numergy, QNAP, Revera, Scality, Seeweb, SwiftStack, ThinkOn, Tiscali,  vCloud Air, Verizon, Walrus and Zettagrid. You can also use a custom S3 compatible server by entering the specific information.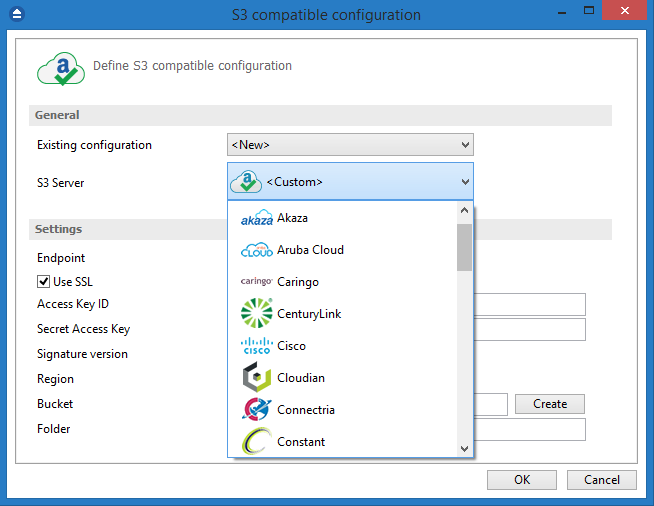 New Scheduled Suspend option (PRO only). This new option will allow you to set specific time intervals when the Backup4all application will be suspended. For instance you can set it to be suspended during work hours and only run it at the end of the day when you're not using the computer anymore.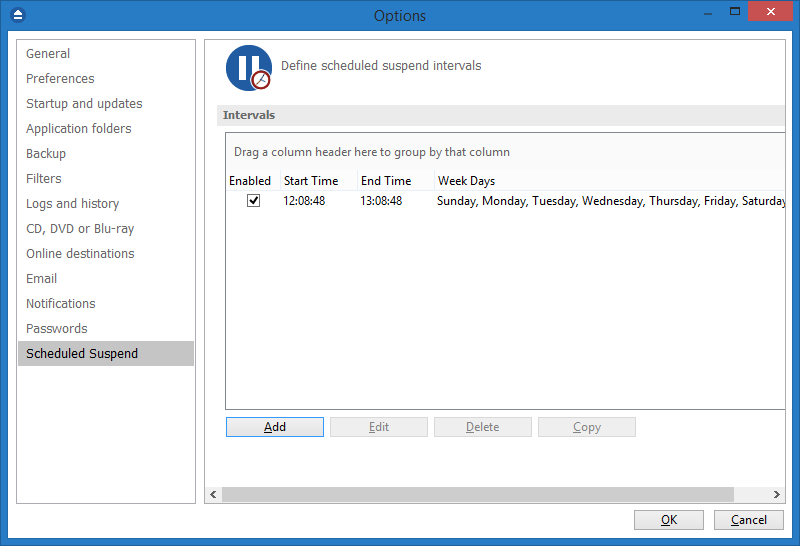 Interface updates. The interface was redesigned, it now features a fresh new look with new icons, colors and a few re-organized options.
Full list of changes in Backup4all 7:
New: Hubic cloud backup destination
New: Hidrive cloud backup destination
New: 37 Amazon S3 Compatible cloud backup destinations (i.e. Cisco, Google Cloud Storage, Hitachi, Tiscali, Verizon and more)
New: Scheduled Suspend option to pause backup between specific times
New: Option to use block backup "Only for files larger than" a certain size
New: Control tab with quick access to suspend/stop/cancel jobs
New: Exclude filters for "Office temporary files", "Linux mapped drives", "Windows system files"
New: Quick email notification settings in the New Backup Wizard
New: Search option for the Plugin Management section
Update: Restyled the ribbon interface
Update: Navigation pane can be compacted and customized
Update: Reorganized the New Backup Wizard
Update: Restructured the list of Options
Update: Modified application folders paths
Update: Options to customize the Quick Access Toolbar
Update: Restore the "Last Modified" folder date
Update: Added selectable Regions for Amazons S3 backups
Update: Backups to Google Drive show the progress in real time
Update: Optimized restore for large backups using independent splits
Update: Plugin Creator redesigned to make it easier to create plugins
Update: All cloud destinations are now using the latest APIs
Update: Minimized destination disk fragmentation for mirror backups
Update: Activation window redesigned
We strongly recommend updating to this version and the good part is that you can give it a try before deciding to make the switch. Backup4all 7 will install separately from your older installation and you can test it for 30 days: Download Backup4all 7
When you're ready to make the switch, just import the backup jobs from the older version and purchase an upgrade. Prices for upgrades vary depending on what license you currently own, but you can quickly check the pricing by entering your key here: Upgrade Backup4all
Of course, as always we encourage feedback so if you want to share with us your opinion regarding this new release feel free to add your comment.