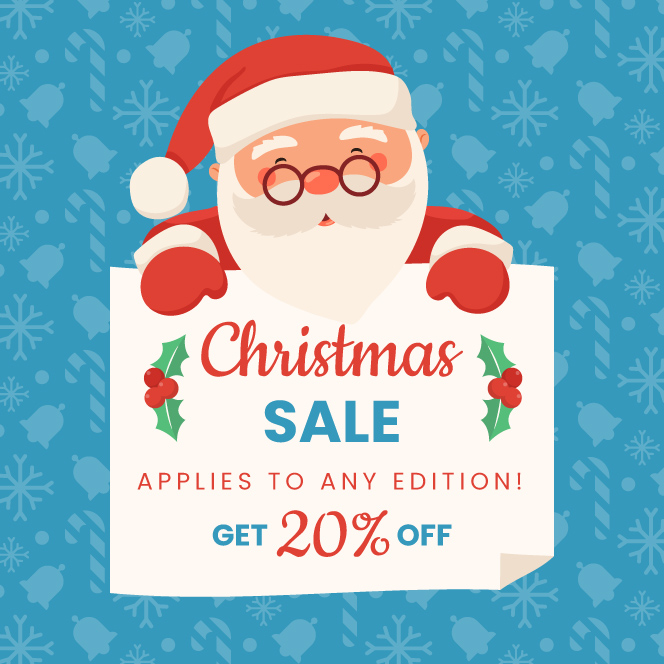 UPDATE: This promotion is now over
We wish you and your family a Merry Christmas and a prosperous New Year! As 2018 comes to a close, we would like to take this opportunity to say THANK YOU for your business and support over the years.
Starting today we run a special holiday promotion for Backup4all users, where you will receive a 20% discount for any orders placed until January 3rd, 2019. To receive the discount simply use the following coupon code on the checkout page: CH19B3b
Please note that our offices will be closed between December 22nd and January 3rd. Only urgent support emails will be answered during this period.
Here's how you can buy Backup4all with the 20% discount:
Add a Backup4all license to your cart by clicking on the following link: Backup4all Professional (20% off)
The discount will be applied automatically, all you have to do is click on "Checkout" to finalize your order
The link above adds a Professional license in your cart, however if you want a different edition just add that extra one in your cart and delete Professional – the discount applies to Standard and Lite as well
Your cart will show the discount and the total value you'll pay, just like you see in the image below: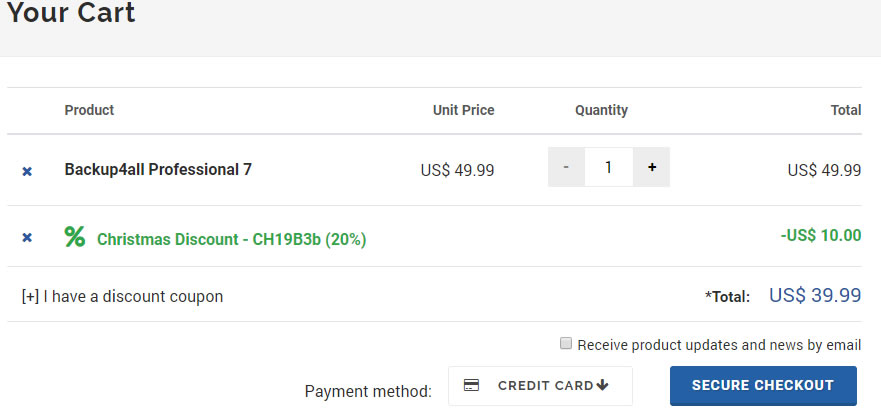 Extra details regarding the Christmas sale promotion:
There's no quantity limit, you can order as many new licenses as you need. Volume discounts also apply so the more you order, the steeper the discount
The 20% discount applies to Professional, Standard or Lite editions
Promotion is valid until January 3rd, 2019 – orders after that date will have the full price so HURRY before you miss this deal
Be sure to share this deal with friends, they'll appreciate the tip if they're looking for an excellent backup software.
If you have any questions or suggestions use the comment section.