Backup4all 6.4, with new actions for Quick Test and Repair
A new major update was released, Backup4all 6.4. This new version adds new actions for Quick Test and Quick Repair. You can download it here: Download Backup4all 6.4.
The new Quick Test action will run much faster than the regular Test because it will not verify the CRC of saved zip files. The CRC operation is the most time-consuming action. Right now the Quick Test action will verify if the files exist and if their size is the same. Even without the CRC verification, the Quick Test operation will discover 90+% of errors.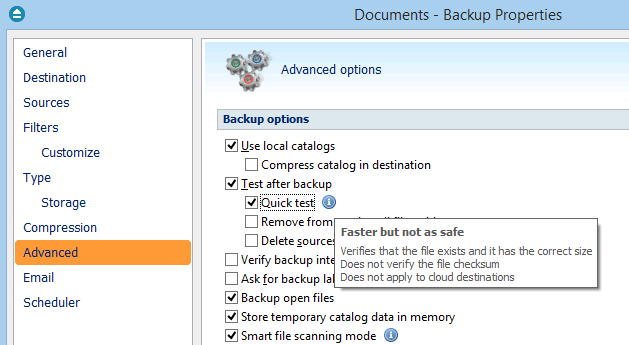 The Quick Repair operation will use Quick Test instead of regular testing as part of the repair process, as opposed of the full Repair operation (that uses Test).
Here's an overview on what was added in the recent version:
New: Quick Test action for backup jobs
New: Quick Repair action to test and fix backup jobs
New: Quick Repair Catalog Only action
Update: Better detection for Removable/External drives
Update: Translation support for labels used in notification emails
Update: Updated multiple languages
Update: Partial redesign for Check for updates
Fix: Option to hide tray icon was overridden after an update
Fix: Repair action for a job with no executions returned error
Fix: Smart file scanning mode was not working properly when files were deleted
Fix: Small conflicts between different major versions on the same machine
Fix: Status for master password was not updated for cloud destinations
Fix: File count progress was not displayed for Google Drive backups
This version update is free for all users that have an existing valid license of Backup4all 6.x.
However, this version is not free for users of previous versions of Backup4all (1.x – 5.x). If you own a previous version and want to test Backup4all 6.4, you can install a 30 day free trial here: Download Backup4all 6.4.
When you're ready to make the switch, just import the backup jobs from the older version and purchase an upgrade. Prices for upgrades vary depending on what license you currently own, but you can quickly check the pricing by entering your key here: Upgrade Backup4all