Backup4all 6 adds new Cloud backup destinations
Backup4all 6 was now released and is available for download. An important part of it was completely redesigned thus we highly recommend the upgrade. You can download it here: Download Backup4all.
There are still three different editions for Backup4all, but they are now combined in a single setup so you'll be able to use the edition you want when the setup finishes either by trying an edition or by entering your key. Here are some of the new features that were added in this new version:
Cloud Backups to Google Drive (PRO only). The new version adds new online backup destinations and Google Drive is one of them. It is now possible to configure your backup jobs to back-up files and folders online in your Google Drive storage destination. All you need to do is connect your existing Google Drive account with Backup4all and that's it, from that point on you can make online backups directly to it.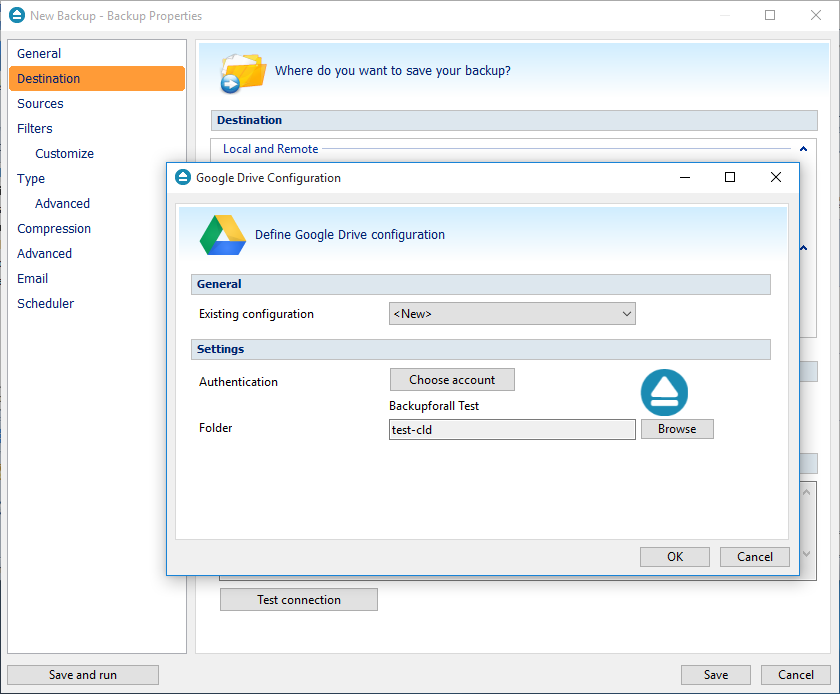 Cloud back-up to Microsoft One Drive (PRO only). Microsoft OneDrive (previously known as SkyDrive) is one of the other cloud storage providers we've included in the latest version of Backup4all. Just connect your account and authorize Backup4all to use your OneDrive storage as a backup destination.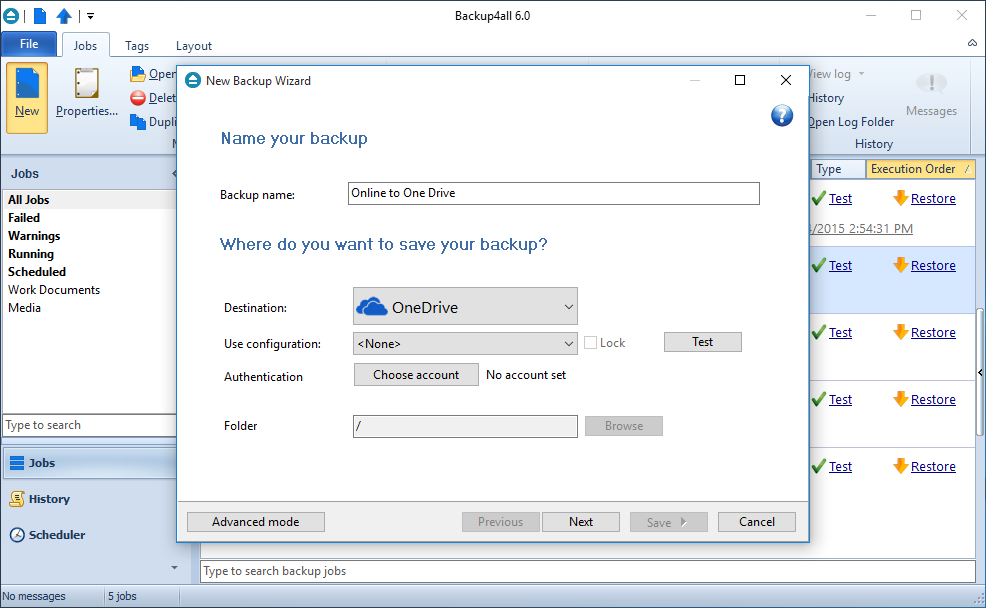 Cloud back-up to Dropbox and BOX (PRO only). The last two online backup destinations we added in Backup4all 6 are Dropbox and BOX.com. If you have an account with any of these cloud storage providers you can connect them with Backup4all and use those as a backup destination.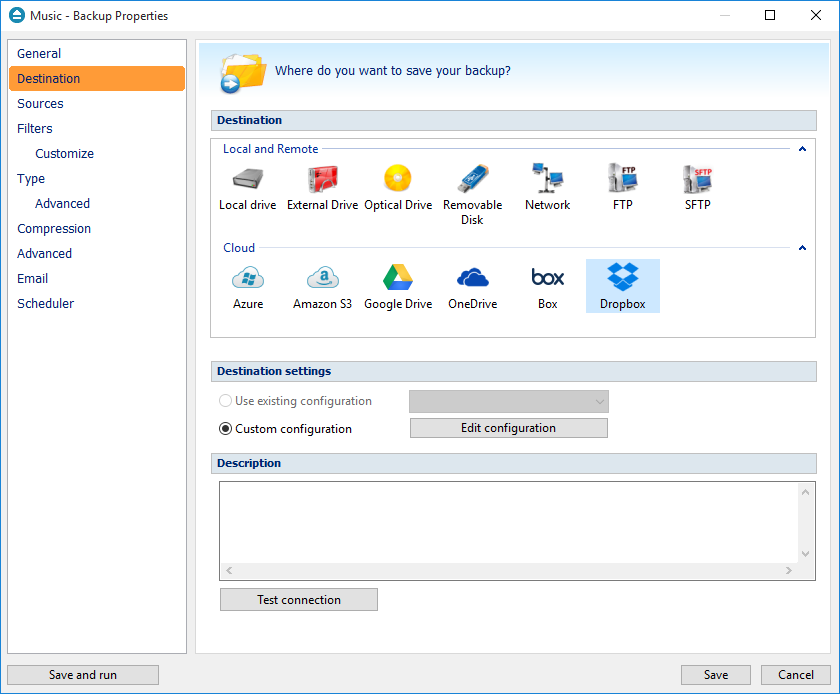 Verify backup integrity before execution. You can set a new option in Backup4all 6 that verifies if the existing backup is not corrupted before running a new instance of it. Before executing a new instance of the backup job it will scan the existing destination files for that backup job. The files that are corrupted will be removed and then the new backup job instance will run.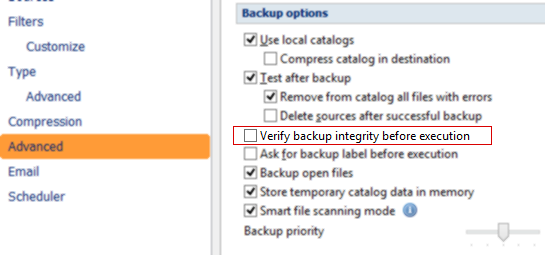 Search for files/folders in Backup view. You can filter the files and folders shown in backup view faster now by using the type-to-search form. This will filter and show only the files/folders that match your query. What it actually does is it creates a quick file filter and applies it, we decided to include it in here for faster access to this option but if you want more advanced filtering options you can click on the Filter Files option in the Backup view ribbon toolbar.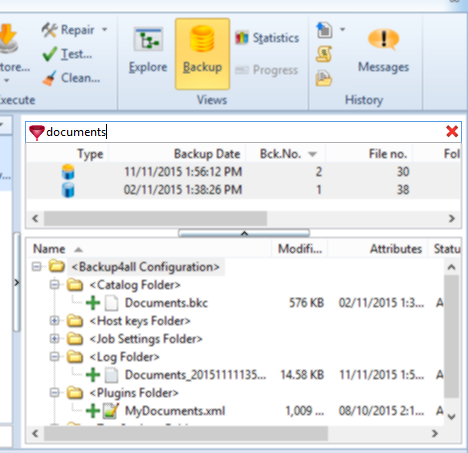 SHA-256. Backup4all is now signed with a SHA-256 code signing certificate and that makes it fully compliant with Microsoft Authenticode. The previous code signing certificate was based on SHA-1 but due to some advances in attacks over that algorithm Microsoft decided to deprecate it. SHA-256 is the strongest algorithm available and protects users against rogue setup files. Furthermore, we're using Extended Validation Code Signing which basically means that the setup is whitelisted by Microsoft's SmartScreen filter.
Interface updates. Several interface changes were done especially in re-organizing the way backup types are shown and backup destinations in the Backup Options, New Backup Wizard and Backup Properties sections. Now it is easier to access the options for the various destinations/types from a single window rather than having to access those individually.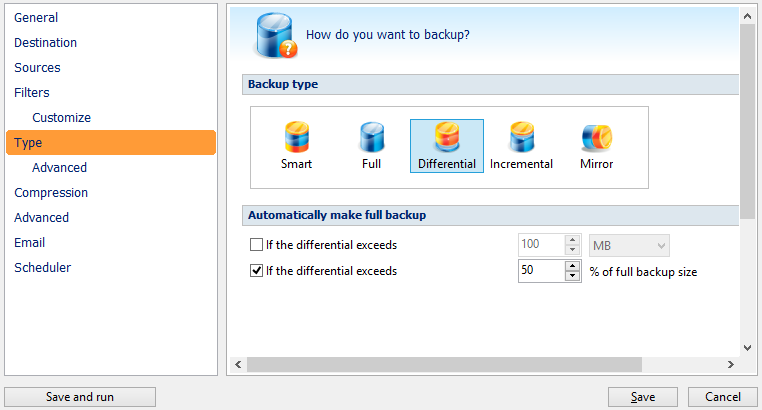 Aside these changes, starting with version 6 the Standard and Lite editions have some new features. These new features were already included in a previous version in the Professional edition, and now they're available in Std/Lite too as detailed below:
Backup4all Standard now has Email notifications, the option to schedule backups to run at shutdown and smart file scanning.
Backup4all Lite now has CD/DVD as a backup destination plus the Backup and Progress views.
We strongly recommend updating to this version and the good part is that you can give it a try before deciding to make the switch. Backup4all 6 will install separately from your older installation and you can test it for 30 days: Download Backup4all 6
When you're ready to make the switch, just import the backup jobs from the older version and purchase an upgrade. Prices for upgrades vary depending on what license you currently own, but you can quickly check the pricing by entering your key here: Upgrade Backup4all
Of course, as always we encourage feedback so if you want to share with us your opinion regarding this new release feel free to add your comment.