Backup4all 6.3 is available, with bandwidth control for cloud destinations
A new major update was released, Backup4all 6.3. This new version adds bandwidth control for cloud destinations and a new option for triggering the use of "Smart file scanning mode". You can download it here: Download Backup4all 6.3.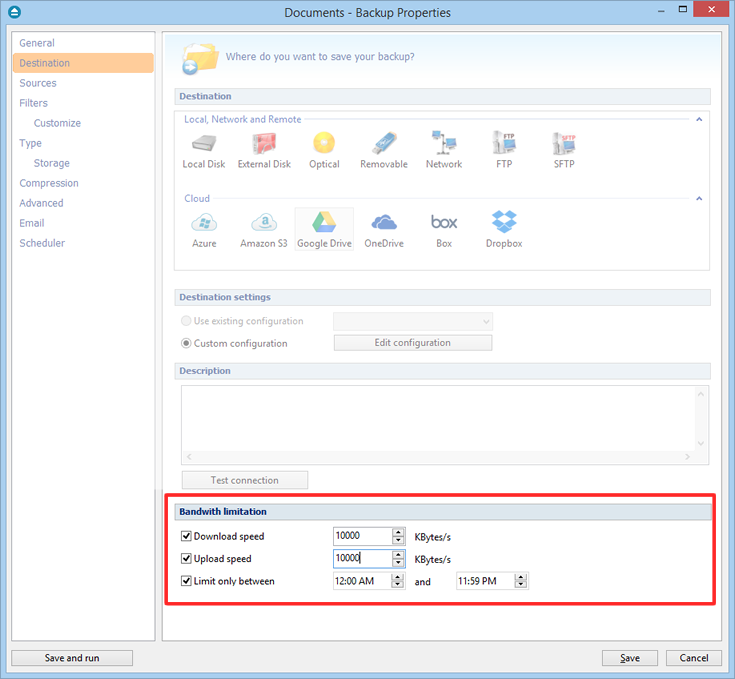 Here's an overview on what was added in the recent version:
New: Bandwidth control option for uploading backups to cloud destinations
New: Double-clicking the tray icon opens the main interface
New: Use "Smart file scanning mode" automatically based on file count
Update: Cloud authentication is done through the default system browser
Update: Log file will show the Smart file scan mode selection status also
Update: Restore location is logged in the restore log
Update: Azure/Amazon backups will continue even if the certificates cannot be validated
Update: Updated French, Ukrainian and Vietnamese languages
Fix: New scheduled tasks could not be created in Windows 10 Anniversary Update
Fix: Test for cloud destinations when no configuration was set
Fix: Information in log when the backup is executed with different permissions
Fix: Files were not deleted from destination when the path was too long for mirror backups
This version update is free for all users that have an existing valid license of Backup4all 6.x.
However, this version is not free for users of previous versions of Backup4all (1.x – 5.x). If you own a previous version and want to test Backup4all 6.3, you can install a 30 day free trial here: Download Backup4all 6.3.
When you're ready to make the switch, just import the backup jobs from the older version and purchase an upgrade. Prices for upgrades vary depending on what license you currently own, but you can quickly check the pricing by entering your key here: Upgrade Backup4all
Holiday Discount
We wish you and your family a Merry Christmas and a prosperous New Year! As 2016 comes to a close, we would like to take this opportunity to say THANK YOU for your business and support over the years.
Starting today we run a special holiday promotion for Backup4all users, where you will receive a 10% discount for any orders placed until January 4, 2017. To receive the discount simply use the following coupon code on the checkout page: CHRMB16ff
Please note that our offices will be closed between December 26th and January 3rd. Only urgent support emails will be answered during this period.