Backup4all 6.2 adds proxy support
A new major update was released, Backup4all 6.2. The main feature is adding support for proxies when activating the application, plus some major improvements for the smart file scanning mode. You can download it here: Download Backup4all 6.2.
Backup4all requires activation and until now this was done automatically via the detected Internet connection. Starting with version 6.2 it is possible to configure a proxy and Backup4all will use it to communicate with the activation server. The option is available in the File->Options->General section.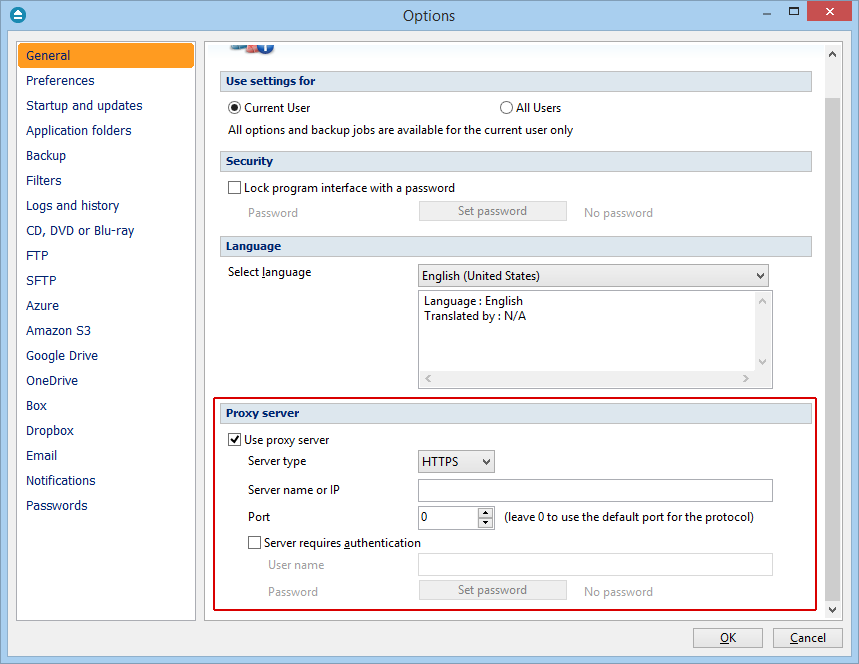 The other important feature in Backup4all 6.2 is in regards with the Smart File Scanning mode.
Backup4all can use the USN journal to get a faster detection of the modified source files. The USN Journal (Update Sequence Number Journal), or Change Journal, is a feature of NTFS which maintains a record of changes made to the volume. Since version 5.4 of Backup4all, this option is activated by default for all new jobs.
Starting with version 6.2 it is now possible to select when the "Smart file scanning mode" option from Backup Properties->Advanced page will be used:
Always – the option will be used every time.
When source file count is – using a slider you can decrease or increase the limit when the "Smart file scanning mode" will be used. The slider steps are: 20,000 (Very small)/ 50,000 (Small) / 200,000 (Regular) / 500,000 (Large) / 1,000,000 (Very large) of source files and folders.
For small and very small numbers of source files/folders we don't recommend using Smart file scanning mode, so using this setting you can now disable it.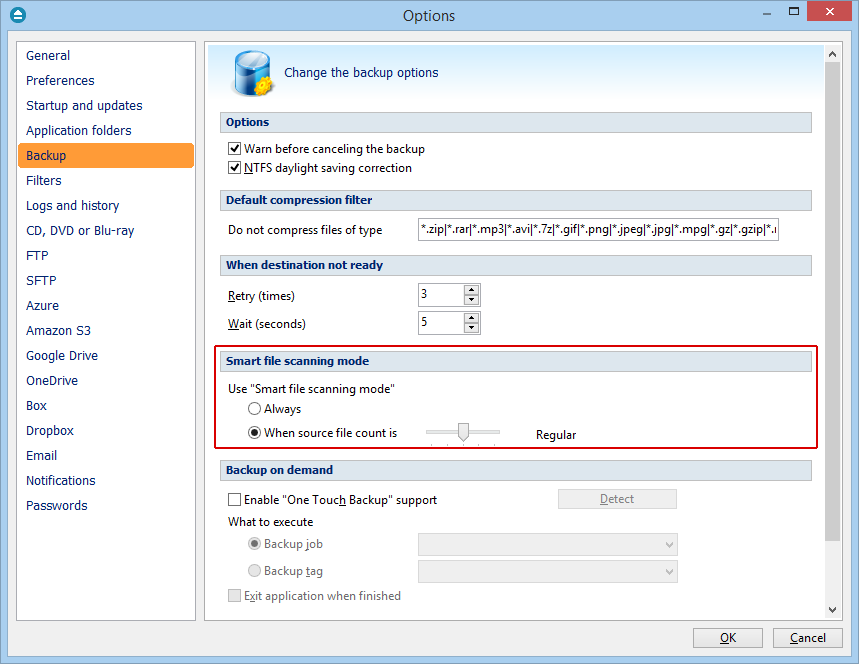 Here's an overview on what was added in the recent version:
New: You can now configure a proxy server (HTTPS/SOCKS) for activation
New: Added options for Smart File Scanning mode based on source file count
Fix: Correction for backups with obfuscation
Fix: Small error when changing sources for mirror backups
This version update is free for all users that have an existing valid license of Backup4all 6.x.
However, this version is not free for users of previous versions of Backup4all (1.x – 5.x). If you own a previous version and want to test Backup4all 6.2, you can install a 30 day free trial here: Download Backup4all 6.2.
When you're ready to make the switch, just import the backup jobs from the older version and purchase an upgrade. Prices for upgrades vary depending on what license you currently own, but you can quickly check the pricing by entering your key here: Upgrade Backup4all