How-to: Force Backup4all to copy missing files in destination
We've added a new article to our Knowledgebase, that explains how you can repair a backup job if you accidentally deleted some files from the backup destination or if those were corrupted during copy/archiving: How to force Backup4all to copy again missing files in destination
When you define a backup job, Backup4all will copy the files/folders from a location (backup source), to another location (backup destination). If the backup stored in the destination is intact, you can easily restore those in case of necessity. However, if the backup destination is missing files, Backup4all won't be able to restore those. Here's 2 scenarios where files from the backup destination cannot be restored:
user deletes files by mistake from the backup destination
archived files in the backup destination get corrupted during copying or archiving
The problem is that Backup4all uses the backup catalog file to store information about the backed up files (it does not scan the files in destination every time). So it cannot know that someone deleted files from the backup or that those are corrupted. Even if you continue to run the backup, Backup4all won't copy those files again. The solution in this case is to run a repair for the backup job.
The Repair process will first run a test for that backup, to identify the missing/corrupted files in the destination. Then it will run a backup, to copy those missing/corrupted files from source to destination.
This way, the backup job will be safe again and in case you do need to restore it in the future, there won't be any problems.
The Repair button can be found in Backup4all on the main toolbar menu.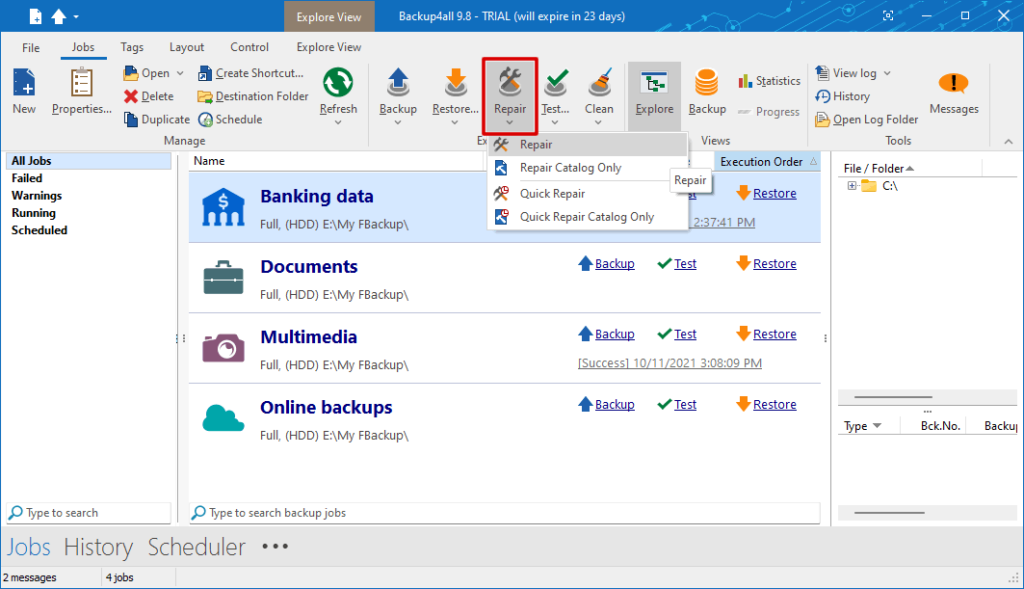 You can run a repair action that recovers the full backup job (or only the catalog) or a quick repair that basically just tests if the files exist in the destination or not.
---
This is a summary of the full article we've recently posted. For a detailed tutorial on how you can repair a backup job if you accidentally deleted some files from the backup destination or if those were corrupted during copy/archiving, read the full article in our Knowledgebase: How to force Backup4all to copy again missing files in destination