Backup4all 8.4, with new backup plugins & languages
Backup4all 8.4 was released, an update that includes new backup plugins, languages, updated ribbon theme and other changes. Update is highly recommended. What's new in Backup4all 8.4:
New: Added backup plugin for Audacity
New: Added backup plugin for OcenAudio
New: Added backup plugin for SlimCleaner
New: Serbian language added for the user interface (both Latin and Cyrillic)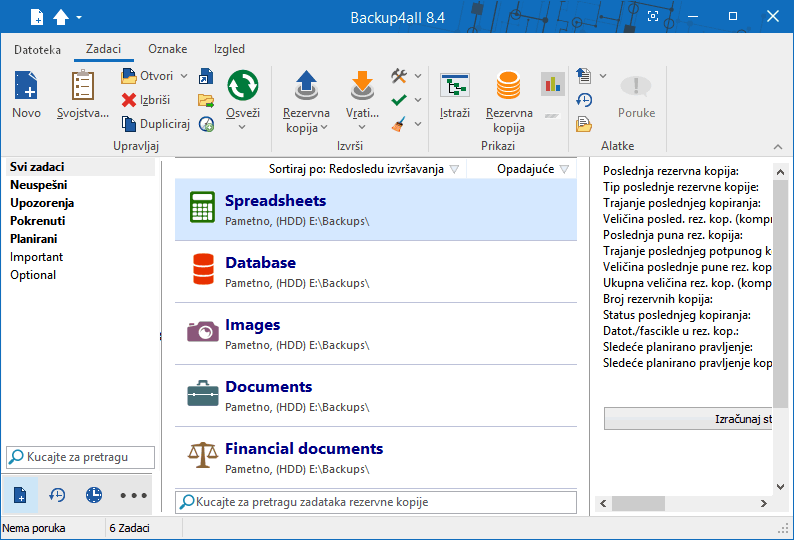 New: Updated design for the ribbon interface with new styling options
Update: Dutch language updated
Update: Japanese language updated
Update: Manual activation window was redesigned
Fix: Selective restore with file filtering ignored main folder
Fix: Group name tag in email templates was not displaying proper information
Fix: Multiple "new version available" update windows
Fix: Timestamp error for scheduled backups
Notice to previous versions users (Backup4all 2.x, 3.x, 4.x, 5.x, 6.x, 7.x): Backup4all 8.4 will be installed separately and allows you to import the backup jobs from the previous version (once imported, they cannot be used in the previous version). To upgrade visit this page: Upgrade Backup4all
This version update is free for all users that have an existing valid license of Backup4all 8.x.
However, this version is not free for users of previous versions of Backup4all (1.x – 7.x). If you own a previous version and want to test Backup4all 8.4, you can install a 30 day free trial here: Download Backup4all 8.4.