The last two issues of PC Utilities
PC Utilities was a monthly IT magazine published in the UK by Magnesium Media. Their first issue was published in 2000 and became one of the most popular guides for freeware and shareware Windows software. Unfortunately on July 22, 2012, the magazine was discontinued after 12 years and 154 issues published. We received issues 153 and 154 (the last two ones they published before being discontinued) because our programs have been featured in there too, here's a snap of these issues: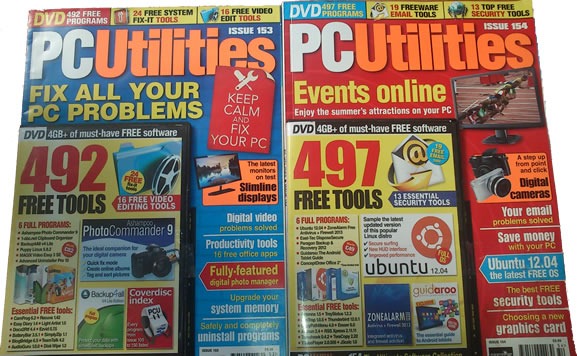 You can see why this was one of our favorite magazines. They're the most vibrant colored we've seen and they're just filled with utilities. In average on the cover DVD of each issue there were about 4-500 programs, enough to find everything you needed. Not to mention that everything was very well-organized and each page was just filled with information. Their tutorials were one of the most thorough ones and you'd understand in a snap how to follow the steps just by looking at the photos. Backup4all was featured in issue 153 and showed up on the cover too: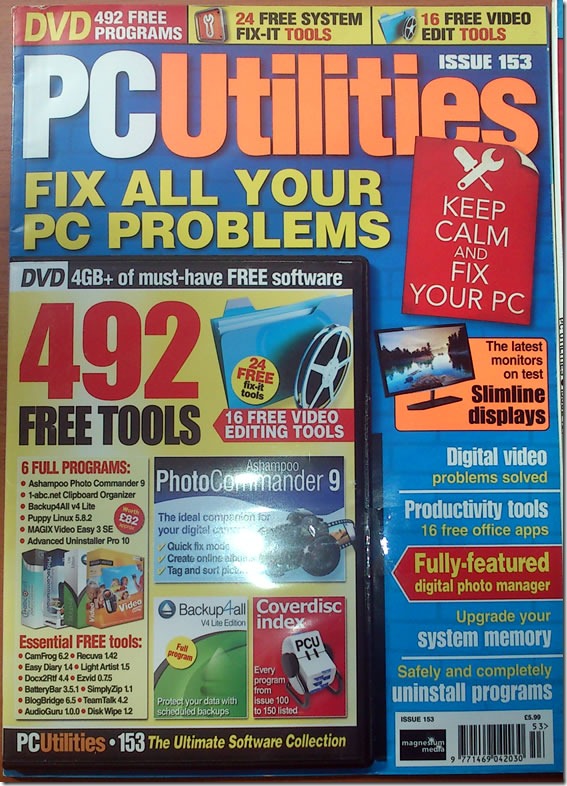 The article about Backup4all is detailed on page 30: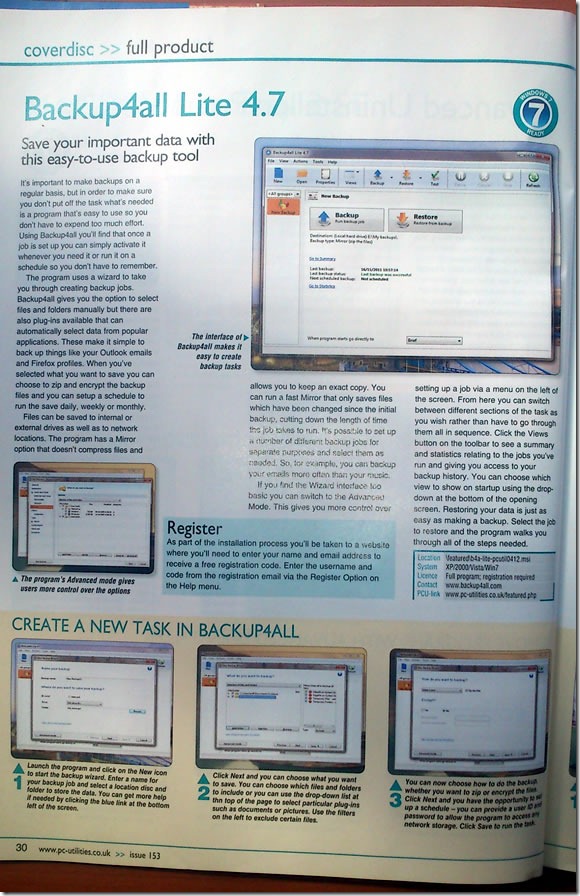 It's a shame they had to discontinue it, but that comes as a result of a continuous decline in demand for printed magazines, as they mentioned in the farewell post:
Sadly over the last few years, there has been a significant decline in demand for printed monthly computer titles both in the UK and abroad. Whilst we have explored every avenue to keep the title running, recent store closures and low sales figures have meant it is no longer financially sustainable. We'd like to thank all our readers over the years, and in particular our subscribers — who should be receiving a letter from us shortly — for their wonderful support.
As mentioned previously, Backup4all gets mentioned in magazines quite often, so if you spot it in a magazine help us out by posting a comment in case it's one we didn't know about – it's not that we love to brag about, it just feels good to receive recognition.