Backup4all 7.3 released, with GDPR changes
Backup4all 7.3 was released, a major update with several improvements. You can download the new version here: 
Download Backup4all
.
Here are some of the new features that were added in this new version:
GDPR compliance changes. The General Data Protection Regulation (GDPR) is a regulation in EU law on data protection and privacy for all individuals within the European Union, that becomes enforceable on May 25th, 2018. We value your privacy and we've taken extra measures to ensure that we comply with GDPR in regards to the data we collect from you. That's why, the main change you'll notice is that when activating/changing your key the personal data is optional.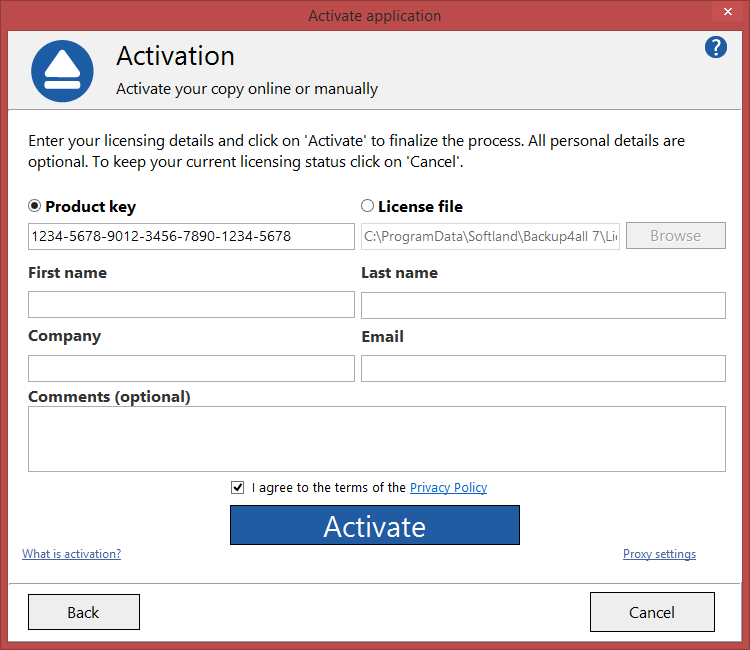 Thus, if you don't want to have your name/email collected you can only enter the product key and activate it. We do recommend entering at least your email to be notified of future updates, but that's up to you.
Checkbox visibility on Windows with no theme. On the main window of the installer there is a checkbox that allows users to decide if they want to send anonymous usage statistics or not. On Windows installations that were not using any themes, the checkbox wasn't visible enough, so we modified it completely now to be more visible. As a side note, the usage statistics sent are truly anonymous as we don't transmit the IP or other particular details about you.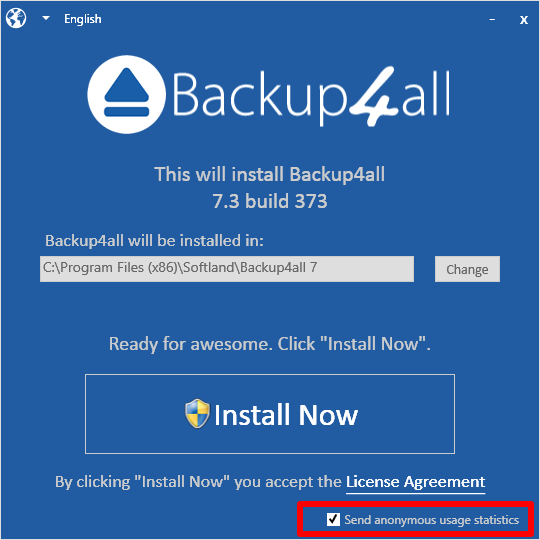 Here's the full list of updates and fixes in Backup4all 7.3:
New: General Data Protection Regulation compliance changes
Update: Check boxes displayed during setup are now more visible on Windows with no theme
Update: Minor GUI improvements
Fix: Control tab in Main window had hidden buttons
Fix: OneDrive for Business connection errors
Fix: Custom filters errors in certain situations
Fix: Help button from File menu did not work
Fix: Rotate disks on external disk option was not saving state
Fix: Backup Properties displayed a warning message for some configurations
Fix: Always add command line details in the bug reporting log
Notice to previous versions users (Backup4all 2.x, 3.x, 4.x, 5.x, 6.x): Backup4all 7.3 will be installed separately and allows you to import the backup jobs from the previous version (once imported, they cannot be used in the previous version). To upgrade visit this page: Upgrade Backup4all
This version update is free for all users that have an existing valid license of Backup4all 7.x.
However, this version is not free for users of previous versions of Backup4all (1.x – 6.x). If you own a previous version and want to test Backup4all 7.3, you can install a 30 day free trial here: Download Backup4all 7.3.