Update: The giveaway is over, all winners were contacted and the licenses sent out. Zemana actually decided to supplement the number of licenses, so in the end there were 15 licenses offered.
Zemana AntiLogger is a program that protects your computer from any attempts to modify your settings, record your activities (i.e. keystrokes) or inject malicious code in your emails and all forms of communications. We're organizing a contest at the end of which 10 15 lucky winners will receive a license (each) for Zemana AntiLogger.
Everyone can participate for free, rules are the same as with previous giveaways:
The winners will have the same benefits as a regular paying customers, each of the 10 15 licenses comes with a 1 year support (after 1 year you will have to renew your subscription otherwise the program won't work anymore)
The contest begins today, May 9, 2013 and ends on May 16, 2013
The winners will be selected randomly and the licenses will be sent via email, so it is important to use a valid e-mail address
Once this finishes, we will announce the winners via email (so be sure to use a real email address to subscribe) and also mention them on the blog, so be sure to subscribe to our RSS feed to receive notifications. You can participate in the contest by signing-up via the widget below:
About Zemana AntiLogger
Zemana AntiLogger offers an extra-layer of protection against the most disruptive malicious programs, keyloggers. Such malicious programs are very dangerous as these send sensitive information from your computer, such as your login information to online financial services (i.e. Paypal), to hackers that will use it to fraudulently access your accounts. Here are some of its main features:
Financial protection against malware. Whenever you communicate with your online financial services you are at a great risk as there are trojans and SSL sniffers that can record or steal the financial data before it even gets encrypted to be transferred over Internet. There's an 'infamous' keylogger called ZeuS that uses this method and its damages are very high. Zemana AntiLogger protects you by intercepting and shutting down any suspicious activities as the ones mentioned above.
Real-time cloud response system. Zemana's IntelliGuard is an early warning and response system that gives AntiLogger real-time access to the latest threats. It comprises of over over 40 databases of known threats which will be automatically blocked on your computer if found.
Keystroke anti-logging protection. Malware that monitors what you type on your computer is the most common method used by criminals to get unauthorized access to your online services and spy on what you do. Zemana AntiLogger will prompt you everytime a process is trying to access your keyboard, regardless of what that process is.
Screen capture protection. To protect against keyloggers, some services now offer extra protection by offering virtual keyboards. However there are malware programs that can take screenshots of what you're working on thus are able to see when you actually point and click somewhere on the screen. The AntiLogger offers protection against such malware programs.
Clipboard remote access protection. You copy/paste sensitive information all the time and what you don't know is that whenever you do that the information remains stored in your computer's clipboard from where it can be easily retrieved. The AntiLogger will prevent unauthorized access to your clipboard notifying you of suspicious activities.
Webcam and microphone hijack protection. Your webcam and microphone can be turned on remotely and silently, while the status LED would still be turned off. This way your webcam can become a surveillance camera and allow hackers to intrude in your personal life. AntiLogger prevents all that and offers protection against remote webcam control.
System intrusion protection. Zemana AntiLogger protects your system's sensitive areas too, such as the registry and physical memory, so that malicious code cannot be injected there and seize control of your PC.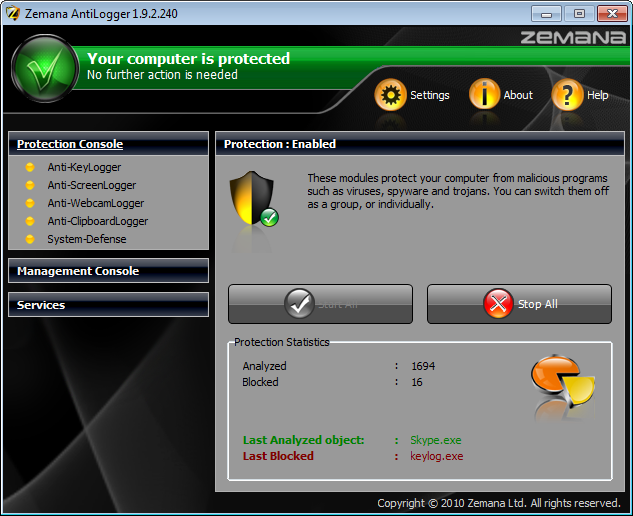 Zemana AntiLogger is a powerful protection program so don't miss this opportunity to obtain a legal license. You can recommend this giveaway to your friends, increasing your odds of winning while helping them discover a great protection tool. If you've used the program in the past feel free to leave a comment and share your feedback regarding Zemana's AntiLogger.